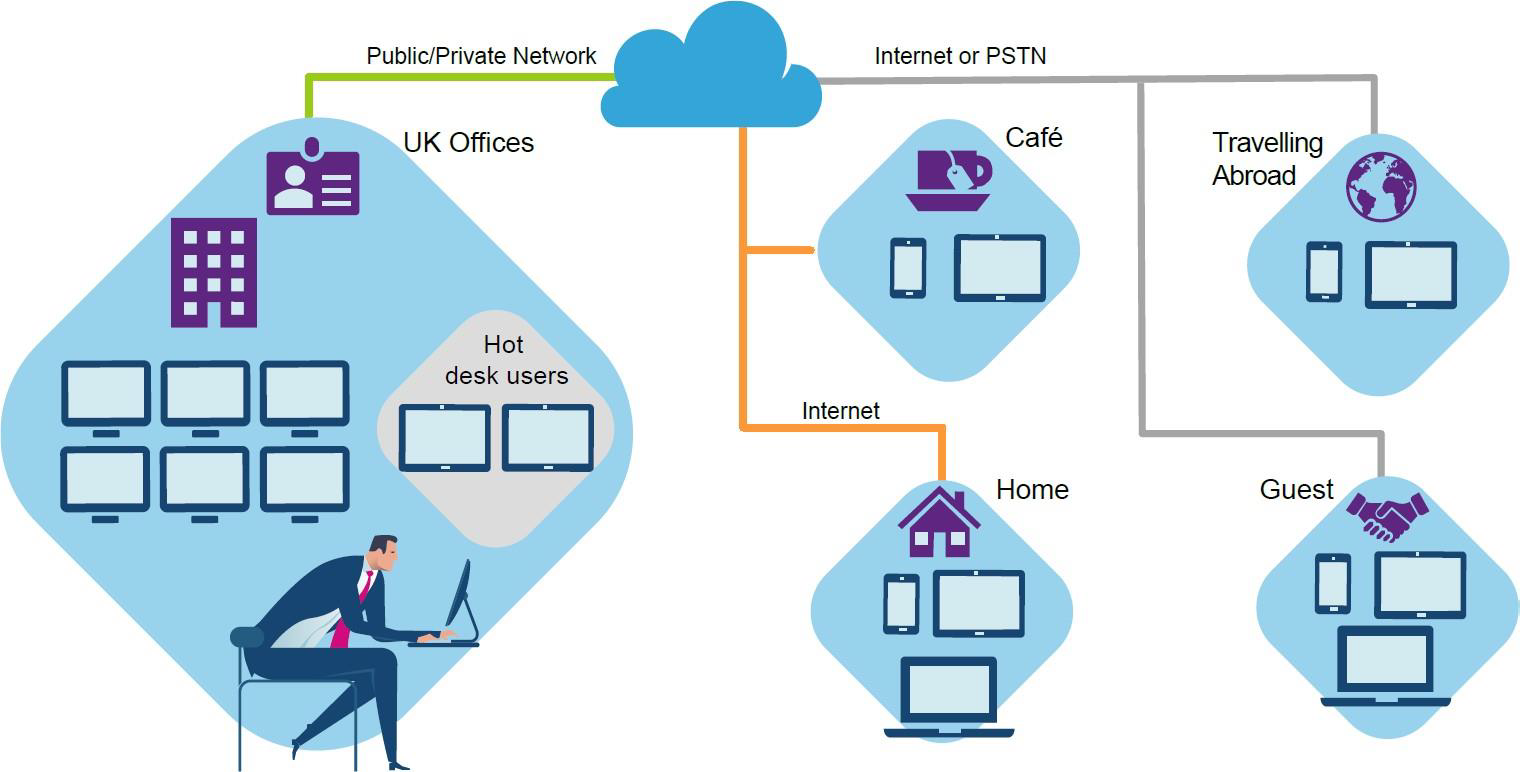 What is Horizon Collaborate?
Collaborate is a complete Unified Communications and Collaboration solution offering services such as instant messaging, presence, video, desktop and application sharing and the calling features that you get with Horizon today.
How does Collaborate work?
It is common for many businesses to use a variety of 'new' applications or online tools for internal and external communications such as Slack, Cisco WebEx, Skype, maybe even LoopUp for Conference Calls. Unified Communications as a Service (UCaaS) provides a more integrated approach that links multiple channels into a single solution and provides additional collaboration tools. Importantly, now businesses have the ability to implement the one 'unified' solution rather than relying on third-party applications.
Horizon Collaborate is a cloud-based implementation of Unified Communications, delivered as a service (UCaaS) built on the market leading Horizon cloud-based telephony solution. A complete Unified Communications solution that provides a collaborative experience across multiple devices and sites, perfect for businesses of all sizes.
The platform provides UC functionality that offers:
Instant messaging: online chat that is faster, prompts a more immediate response than email and ideal as an in-house comms tool
Presence: visibility of co-workers' availability
Video calling: providing a stronger collaborative experience, especially for remotely-based employees
Ad hoc and planned voice and video conferencing: multi-party collaboration using the My Room personal conferencing space, supporting desktop and file sharing
Voice: the complete Horizon cloud-based telephony feature set and service
Available from a variety of locations, using a number of devices…
Within the UK, users can access the Collaborate service from wherever they are located – whether in the office, on the move, or at home – using desktops, tablets or smartphones. The service runs on Windows and Mac desktops, and iOS and Android smartphone devices.
The user interface is intuitive and similar on all devices, providing a seamless user experience when switching between types of device (e.g. leaving home or the office and transferring to a tablet or smartphone in real time).
The guest facility of My Room enables non-employees, such as partners and customers, to be invited into an online meeting. If they have internet access, they can call directly as an IP call, or use call back. If they don't have internet access and are working from their smartphone device they can dial in using a pin.
Main customer benefits
Less wasted time: users can move instantly from one communication channel to another, collaborating with co-workers and improving efficiency and productivity; they don't have to wait while colleagues switch applications, install software or schedule a conference call
Improved customer service: integration with the Horizon telephony solution means incoming customer enquiries can be routed to the most appropriate employee, who can then check the availability of co-workers and bring them in to the discussion or an ad-hoc online meeting to rapidly resolve any issues
Agility: the inherent flexibility and scalability of the cloud-based service means adjustments can be made quickly to support changing business requirements
Low and predictable costs: inclusive minutes to UK landlines and mobiles are provided for a simple per user per month price
Cost savings: from reduced travel costs and expenditure savings from not having to subscribe to multiple platforms
Reduced IT overhead: administration tasks are made simple through the Horizon administration interface and users can make day-to-day changes without involving IT support
Common interface: the user interface for Collaborate is similar on all supported mobile devices and desktops, which enhances the user experience, minimises learning and encourages adoption
Seamless transfer: users in the UK can move from one environment to another (e.g. home or office to mobile) while continuing to participate in a Collaborate conference, further contributing to increased efficiency and productivity
Why do businesses need Horizon Collaborate?
Speed of response
Today, businesses such as Estate Agents or Recruitment Agencies are expected to respond quickly to customer or candidate requests. Employees need to be equipped to handle a constant flow of enquiries across multiple channels. Faster response times can be a key differentiator between local competitors as this helps businesses stay ahead of their rivals based on their superior customer service. Very positive so far!
However, businesses can only provide this level of service if their employees and partners can work together 'collaboratively'. Organisations want their staff to be able to collaborate and solve problems immediately, at the end of the day it provides a better customer experience. Co-workers need to be able to share documents and supplement voice calls and web meetings with chat and ad-hoc conferencing, rather than wasting time setting up online or face-to-face meetings.
Businesses also want to encourage agility through cross- functional team working. They need to provide the functionality to create ad-hoc groups across say, product development, marketing and sales to plan new product launches, or across operations, finance and HR to plan office moves.
Working preferences
In addition to text and voice calls, today's employees use live channels such as WhatsApp to share news and documents. But these applications are not designed for a business environment that can often require a more secure and reliable option. Switching between tools is discontinuous and wastes time, requiring multiple account log-ins. WhatsApp has demonstrated in the consumer space, that a modern communications solution should allow users to move from chat to voice to video without switching between applications. This is now available in the business world too and it is not reserved for big businesses. Horizon Collaborate has Small-Medium sized businesses at the heart of it's functionality and design.
Mobility
It's common now in 2019, that employees work from multiple sites and like to get tasks done on the move. A tablet or smartphone is often the preferred device for all communications, so being able to access the same communication channels across desktop and mobile devices is now a necessity. With a mobile workforce that can see their co-workers' availability is also useful, and potentially helpful in maintaining employees' work-life balance.
Across all verticals there are some common factors driving the take-up of UCaaS:
Agility: businesses are driven by results and need to respond faster
Customer power: customers today are better informed, have higher expectations of service, and want to choose how they communicate
Cloud: SMEs and Enterprises are adopting cloud and SaaS applications.
Adoption: businesses are increasingly using UC (including UCaaS), IP telephony and video conferencing but usually in separate applications like Skype and WebEx
Flexibility: increasingly, candidates see flexible/remote working as an important criterion when considering employment, and it may be key to retaining the best employees
Pressures: competitive and budgetary pressures on SMEs and mid-market businesses mean they are looking for risk-free solutions for increasing productivity and lowering costs
ISDN: for some businesses the trigger may be a desire to move away from ISDN to improve efficiency and reduce costs by adopting a cloud-based telephony solution like Horizon:
Purchase cycles: many businesses are coming to the end of their 5-year cloud PBX contracts and are looking for new or enhanced solutions. Horizon along with Collaborate can achieve that
How does it help businesses?
Employee Engagement
Attracting and retaining the best people is vital in today's highly competitive world.
Providing the up to date tools demanded by employees, keeping them engaged and being able to attract resource from a broader resource pool is not just desirable but amust-have.
Customer satisfaction
Customers demand ever more rapid decision making from their suppliers.  With Collaborate, businesses can find the right people and open the appropriate channels without the typical delay of legacy communications systems.
Meeting social obligations
Reduced travel not only means cost savings but also lowers the carbon footprint as part of a company's social obligation.
Business growth
Success means not only growing revenue but also managing and reducing cost. Collaborate reduces the need for travel and facilitates  flexible working, thereby lowering both  operational costs and real estate overhead. It also helps business growth through providing effective business continuity, mitigating risks through natural disasters, weather and terrorist impact.
Flexibility in an ever-changing world
Buying Unified Communications as a Service (UCaaS) not only means minimal upfront  costs and quick and easy deployment, but  also flexibility to meet the demands of today's challenging economic environment.
If you feel your business could benefit from the Horizon Collaboration service, contact our team today on 01403 620600 or by email at info@keytechnetworks.co.uk to find out more.